DRESSING FOR YOUR BODY TYPE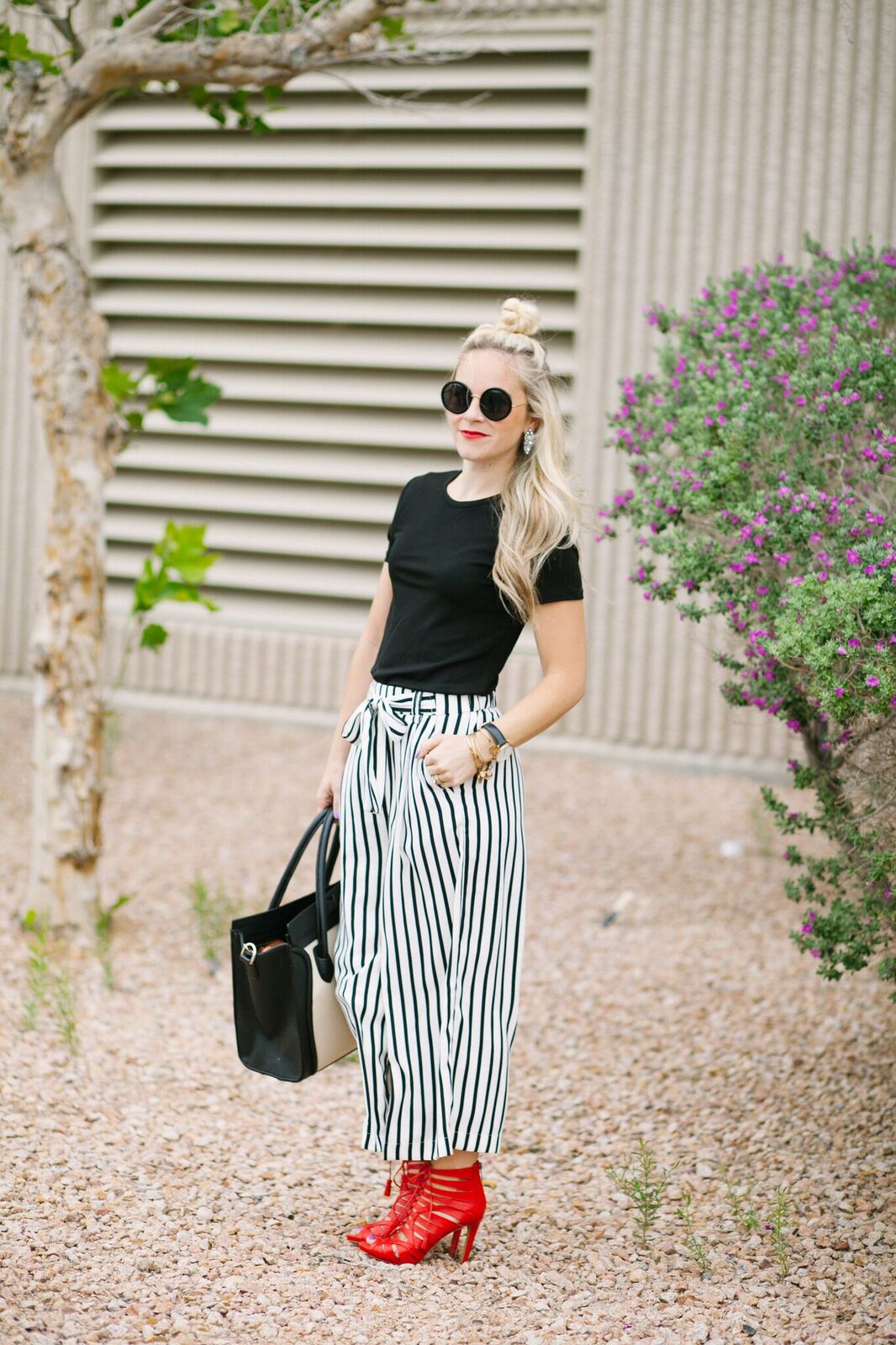 Happy Monday!
Can you believe we are in June already?  How can it be...this summer is going to fly by!  Today's outfit post is all about dressing for your body type.  Unfortunately I am not blessed with long beautiful legs, or height for that matter!  I have short stubby legs, I may have referred to them as "tree trunks" a couple of times previously in my life.:)  It's alright, I have totally gotten over that and learned how to dress in order to accentuate the good, can't change that so might as well make the best of it...right?  For me anything high waisted is a plus, because it gives the illusion that I may have longer legs than I actually do!  In reality these pants above are not the best example, but still high waisted and flowy all the same.  If I were to wear a flat sandal or shoe with these pants it may give off the stumpy look again, that's why I paired these pants with a red strappy heel.  A pop of color and some height..win win!
Notice I wore a tight fitting shirt with these flowy high waisted pants.  My upper body, though I am no where near a six pack is the area I like to accentuate. If I would have worn a big flowy top, it may look as if I was wearing a big tent for the day, and we don't want that! With a small upper body usually, but not always comes with a small chest.  In my case, non existent!  I have also had to except this and make the best of it as well.  In fact sometimes I think if I were to have a large chest it might make me look like a chub chub anyway!
Now to the back side... I have "junk in the trunk" if you will.  Lucky for me apparently that's in right now I guess.  Could change in a year or so... stay tuned.  With that said I don't mind wearing tight jeans anymore because, if you got it flaunt it!  10 years ago I was so embarrassed of my "ghetto booty" as many called it and tried to do anything I could to hide it.  I quickly realized you can't really hide that part of your body, so I gave up.  You can't have it all!
Now say you have the exact opposite body of me, you have model legs that go on for days, but maybe want to disguise your upper body.  Stick to a tight pair of pants and a looser fitting top.  I also have found that button up blouses also look flattering on just about anyone.
Here's to loving the body we were given...and making the most of it!
XoXo
Kenzi [show_shopthepost_widget id="1669960"]