Delivery Day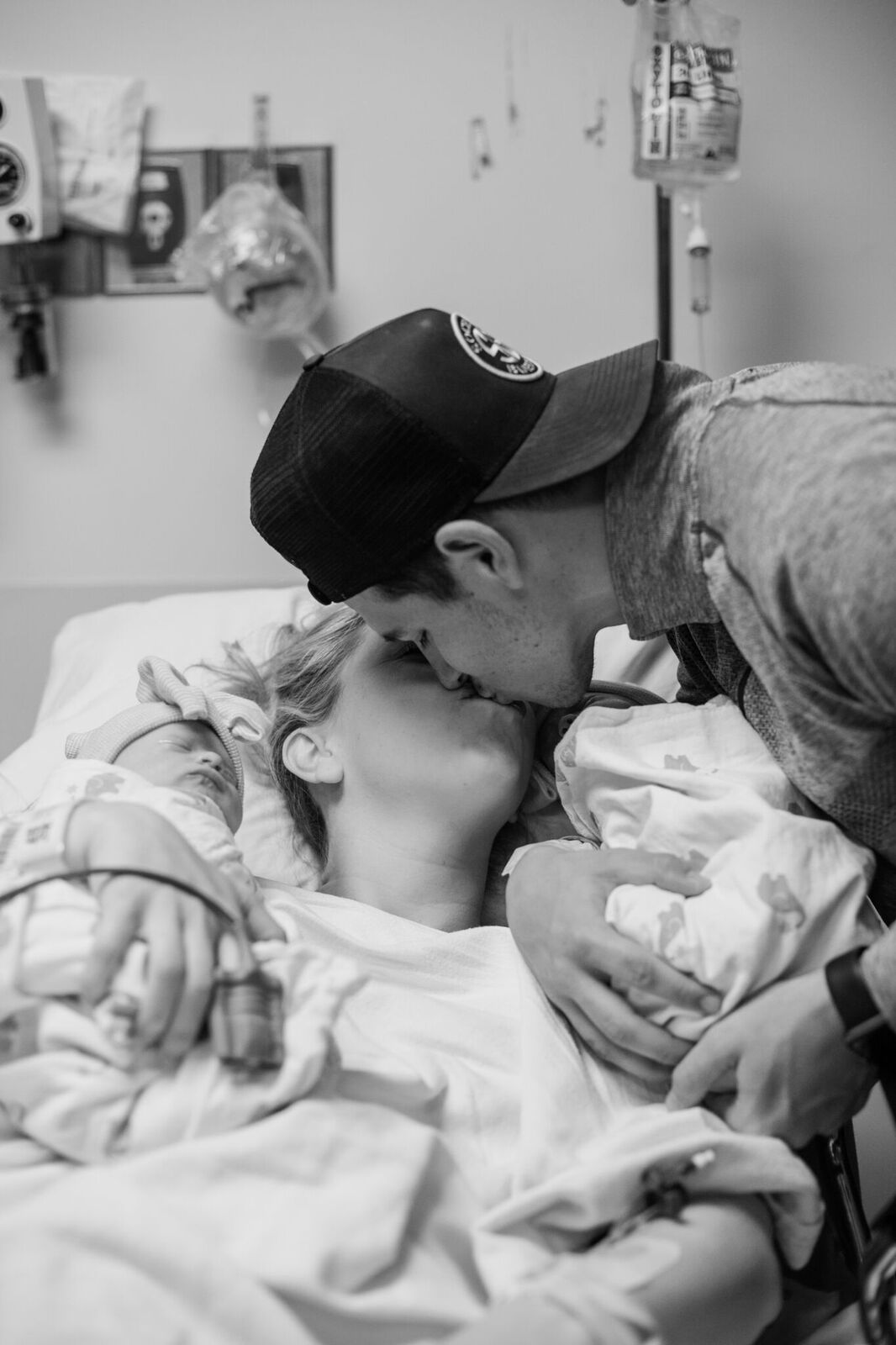 Hi guys! So these past few days my life has changed...  Just a little! My Family turned from a family of three, to a family of five in just a few short hours! I know I have expressed to you guys before, how shocking, and unbelievably unqualified I have felt for this day, but it has come, and it has for ever changed my life for the better!
On Friday night I had labor all night long, contracting pretty close together from about 8 to 11:30 pm, and then they completely just stopped! It was so depressing to say the least! I went to bed and never been more disappointed! I woke up the next morning with unbearable amounts of pain, I assumed probably from laboring the night before. So if I wasn't walking like I had been on a horse for hours before I for sure was now. My dad being the angel that he is, called and came and picked me and Jones up for the day while Justin was at work. That night I didn't think I could bare going out, but had a strange feeling that it might be my last Saturday night date night for a while. So I got the sitter, and threw on the same leggings I had worn every other day for the past three months, and we headed to the movie!
On Sunday I woke up headed to church, dying that I had to put on tights, a tight dress, and heels, but did it! When I got home I headed straight to my parents for a big Sunday dinner, while we were at the table I informed my family, I'm headed to the hospital tonight! My mom said," Are you in Labor?" I replied, "NOPE, JUST DONE!" So I text Justin, and said "Want to go to the Hospital?" he responded "Seriously?" I said "YES!" So we met at our house, I threw a toothbrush, and phone charger in a bag and headed out the door. When we got in the car Justin said, "So whats the plan? Are you in Labor? I again replied with no "JUST DONE!"
When we got to the hospital we walked right up to the nurse's station and said again what I had so said so many times before that day "I'm DONE!" They were so sweet and took me immediately back to triage and got me all settled in. Within us being there less than 10 minutes I had been checked, and admitted into the hospital! When they checked me much to my surprise I was already at a 5! When the nurse told me I literally screamed I was so excited this was it, it was finally here! The nurse then asked are you wanting to deliver naturally and try and push, I immediately responded, "Yes, both babies heads are down and I definitely want to try!" They then had the ultra sound tech come in and again with in minutes my plan was changed again. With just in the last week Baby B had completely flipped again and was completely breeched. I was then told that I would be having a C section at 9 which was in an hour and half. That was it I was going to be having twins in an HOUR AND HALF!!
Justin immediately called both our families and in minutes they were all there, and once again me and Justin felt overwhelming amounts of love! They prepped me and Justin for the c-section and it all happened so quickly, all of a sudden me and Justin looked at each other and realized we don't even have names! So we quickly discussed and with in minutes we knew that their names would be Frankie Mckenzi Wall & KoKo Haylee Wall. After that it seemed all that was left to do was have these sweet angels, and just like that I did. It was all so fast with so many emotions. After it was all over, I was laying on the table, in a out of this world kind of feeling with my eyes closed, the anastheologist  said you can open your eyes and look over at your babies. I looked over and there was Frankie, I immediately was in love as tears filled my eyes! Justin then brought both of them over and let me kiss their sweet faces! After the surgery we then were brought to a new room where our whole family was waiting for us. I can't lie the rest of the night is a little foggy, and according to Kenzi all I could say over and over was how happy I was not to be PREGNANT anymore, that I was so happy, and loved my twinners so much!
I was released last night which was Wednesday night. I couldn't have been more giddy to get home to Jones, and sleep in my own bed with my sweet angels by my side! I now am a mom of three, and I cannot lie I know it will take a long time to get the hang of it, but never have I ever felt so blessed to have three beautiful daughters, a husband who is tender beyond belief with me and them, a mom and mother in law that never stop helping and giving me, a sister who loves me and my babies as if they were her own, a dad and father in law who came to the hospital every day and checked on me, brought us food, and held the babies, and the list goes on and on! In a nut shell I am the luckiest girl in the world. I still sit and wonder why Heavenly Father chose me for this, why he thinks I deserve these two perfect angels, and will I be able to handle it all, but I know that he does not give us anything we cannot handle. I know it will be hard and trying, but I know that the good out weighs the hard ten times over! So hears to my family of five! 2017 I'm sure will be one for the books, one we will never forget as we started it off with a bang on January 8, with adding Frankie Mckenzi 4lbs 14 oz & KoKo Haylee 4 lbs 10 oz to our family. We are the lucky ones and we know it! We love you twinners and welcome you to your crazy, fun, new life with the Wall's!
xoxo
JayCee
Ps. Be aware...PIC OVERLOAD!